Frequently asked questions
What if I forgot my password?
Go to the Log In page and select the "Reset your password" button. Enter your username or the email address that you used to create your account. Instructions for resetting your password will be sent to your registered email address.
How do I find a conversation partner on this website?
Go to the Log In page and select "Create a New Account".
A registration form will appear. Complete and submit it.
Await administrator approval. This may take a day or two.
You will receive an email confirmation upon approval, and your profile will be posted.
Start looking for conversation partners! You may also be contacted by others who see your profile and are interested in a conversation exchange.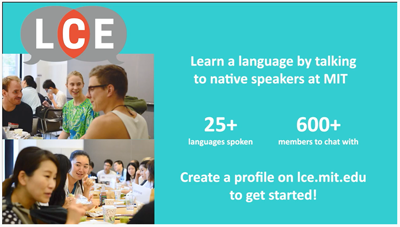 What information about me will be posted on the site?
Here is the information about you that will be visible to other users: name, gender, age (shown in a range) native language, the language(s) you know, the language(s) you want to practice, and your fluency level in both the language(s) you know and the language(s) you want to practice. If you choose to share information about your work, interests, or hobbies, that information will also be visible to other users. By sharing some information about your work or interests, you may more easily find a partner. Potential partners may like to know if you share any interests. 
Do I need to already know how to speak the language I'm interested in practicing?
Although it is possible to begin learning a new language through the LCE, the exchange usually works best when the partners have some ability to converse in each other's language and can carry on a simple conversation.
Please keep in mind that the goal of the LCE is to give people an opportunity to practice their conversation skills with a native speaker. It is not designed to replace the experience of learning from a trained teacher in a classroom setting. It may be unreasonable to expect your partner to teach you specific grammar rules, for example. Read our advice about setting up a successful language exchange.
What if I just want to learn about a particular culture but I don't speak the language?
This type of exchange can work if you are willing to help your partner speak your language, and you clearly explain your interest to your partner. 
How often do people meet?
Partners typically meet once a week for one hour, but you and your partner will decide when, where, and how often to meet. 
What activities do language partners do together?
Many partners meet for lunch or coffee, but there are many other ways to share your languages with each other. You could visit a museum together or see a movie. Perhaps you both enjoy the outdoors or a particular sport or can teach each other how to prepare your favorite recipes. MIT offers many free or low-cost events, including concerts, movies, plays, and art exhibitions that you can attend together. Check out our list of ideas here.
Do you accept people who are not affiliated with MIT?
Because there are many people at MIT waiting to be matched with a partner, we usually do not accept applications from people outside of MIT who are seeking English conversation partners. Occasionally, at our discretion, we will accept applications from people outside of MIT who want to practice a language we have trouble finding a match for. Please contact us for more information.
What if the partnership doesn't work out?
It does happen that a partnership does not work out. This is very normal. If you do not wish to continue meeting with a partner, it is very important to let your partner know that you no longer wish to meet.
All participants should view the first meeting with a new partner as a get-to-know-you meeting. It is fine to end an exchange after a few meetings if you feel it is not a good match. You are always welcome to return to our website, slack space, and events to seek another partner.
Please note that it is normal for there to be some confusion about the location or date of the first meeting between new partners. If you miss each other, try to set up another meeting.
What if I'm having a problem with my partner?