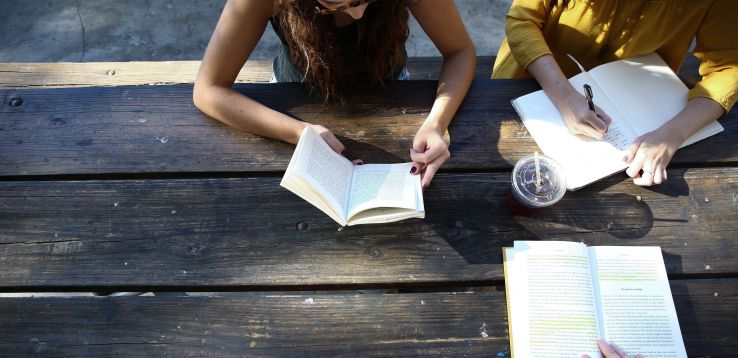 Starting a conversation group with the LCE
Are you trying to brush up on your language conversation skills? A conversation group is a great way to get language practice and build a community of people excited about learning a language.
Conversation groups are groups of people that meet on a regular weekly basis to practice speaking a language. They're low commitment (1-2 hours/week), easy to join (you don't need to search for a language partner), and a great way to meet other learners of the language you are interested in practicing.
Conversation groups are also easy to start! We're currently looking for people who are interested in starting groups for various languages. You do not need to be a native speaker of a language to start a conversation group! If you're interested, check out our steps and tips below for how you can go about it. This isn't the only way to organize a conversation group, but it's a good place to start.
Steps to starting a conversation group
1. Get in touch! We at the LCE want to foster these group discussions. First, check our LCE Slack Space to see if there's already a conversation group for the language you want to practice that you might be able to join. If not, let us know that you'd like to start one at lce@mit.edu! We're happy to help out and give you some tips.
2. Figure out a time that works.  The MIT Community Slack is a great resource for coordinating language discussions. We recommend sending a WhenIsGood poll to the Slack channel corresponding to the language you want to speak. People who are interested in joining can fill out the WhenIsGood with their availability, and then you can decide when to host your meeting. We've found 1-hour meetings once a week work well for starting off.
3. Send out a Zoom link. You can send the meeting information to the corresponding Slack channel. It helps to keep the link constant, so it's easy to find for returning participants.
4. Have your first meeting. If you can, it helps to find a friend or a language buddy who is also excited about speaking the language who will attend the first few meetings with you. That way, you know at least one other person to talk to! Most of all, have fun!
5. Keep it going. Conversation groups get better with time! Don't be discouraged if you have low participation at the beginning. Over time, more people will find out about the group and start joining, and as you get to know the regulars, the conversation will flow more naturally. In the meantime, you can have a fun and productive small-group discussion with three people! 
We've found that using Slack as a communication tool works pretty well for sending out reminders about meetings and coordinating any time changes that may come up.
Have you started a small-group language session? Let us know so we can help get the word out and connect participants to your group! We also want to hear what worked for your group. Send us an email at lce@mit.edu.